On December 6, 2018 at 10am Pacific Time, Jost introduced the Language Technology Wiki (langtech.wiki), which was built by language professionals for language professionals to shape the tools and technology of tomorrow.
Jost worked with attendees to review some of the existing categories and data on the wiki to formulate new ideas to help build a vision of the technology of tomorrow.
About Our Host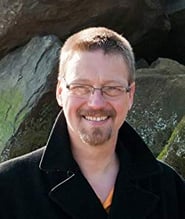 Jost Zetzsche is an ATA-accredited English-to-German translator, a consultant in the field of localization and translation, and a writer on technical solutions for the translation and localization industry. A native of Hamburg, Germany, Jost earned a Ph.D. in the field of Chinese history and linguistics from the University of Hamburg in 1996.

Jost joined the translation industry in 1997 as a translator and project manager for a localization and technical documentation provider. He has led or participated in localization projects in many major software, web, and documentation environments.

In 1999, Jost co-founded International Writers' Group in Oregon, where he lives today with his family. Jost is interested in the effect language and translation have on our perception of the world, and he is passionate about helping his fellow translators embrace technology.

The 13th edition of Jost's popular book, A Translator's Tool Box—A Computer Primer for Translators, is now available and you can find his newest book Translation Matters on Amazon.